Need RV Restoration Services? Rely on the First Class RV Repairs Body Shop for Everything From RV Collision Repair to RV Roof Replacement
When it comes to RV restoration and repair services, the First Class RV Repair body shop is your one-stop-shop for collision repair. Take advantage of all your RV repair needs, including paint and decal repair, suspension repair, fiberglass repair and metalwork, RV roof repairs, part fabrication, window repair and more.
Services Available
Professional RV Collision Repair
Windshield Replacement
Interior Remodel Solutions
Aluminum Skin Replacement
SideWall Repair/Replacement
Hail, Wind, or Sand Damage Repair
Roof & Rubber Roof Replacement/Repair
Custom Paint Work including complete paint, accessory paint, custom stripes, and spot paint
CUSTOM RV PAINT REPAIRS
Our experienced artisans use a controlled state-of-the-art paint booth and a sophisticated paint-matching system by Sikkens to make your RV look like new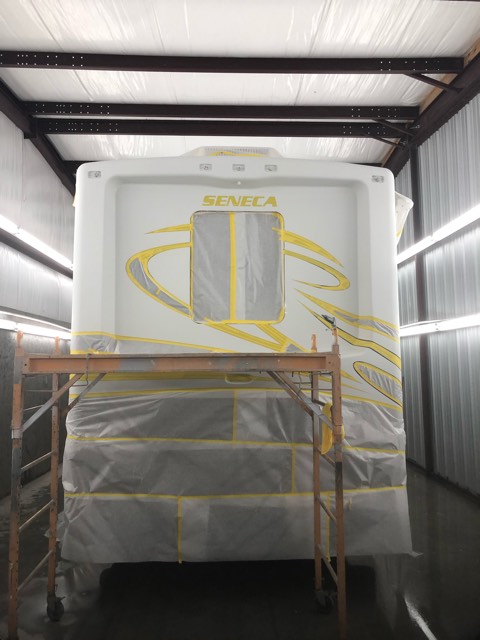 LEADING RV INSURANCE CARRIERS
The RV service technicians at First Class RV Repair are authorized to perform RV collision repair services for leading insurance carriers including Progressive®, Allstate®, USAA®, Geico®, Nationwide®, National Interstate®Farmers, and Farm Bureau
RV ROOF & DOOR REPAIR
At First Class RV Repair, we offer repair and replacement services on RV roofs and doors. Our service technicians can even fabricate certain RV parts that are no longer available.
RV FIBERGLASS & METALWORK EXPERTS
Our RV service technicians are experts in fiberglass repair and metalwork, including stainless steel and aluminum repairs.
ALL RV COLLISION REPAIR SERVICES
RV metalwork (including stainless steel and aluminum repairs)
RV fiberglass repair and fabrication
RV paint & decal repairs
Part fabrication, including certain parts that are no longer available
Door repairs and replacement
Roof repairs and replacement
Finish buffing & clear-coat application
Diamond Shield®
Our Benefits
Nationwide Repair Assistance

Professional & Knowledgeable Staff

State-of-the-Art Equipment
12-month 100% Workmanship Guarantee