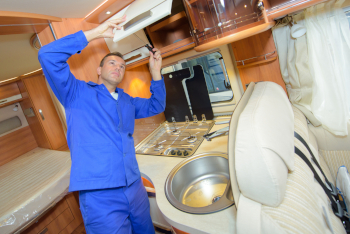 We'll get your RV quickly back on the road for your vacation when you call us for RV repair service in Central Texas, and the surrounding Austin Texas areas. First Class RV Repair responds quickly to your needs seven days a week. In addition to providing RV maintenance, inspections and repairs at our shop. Don't let a vehicle problem get in the way of your vacation plans. Depend on us for insurance work, as well as the following RV repair services.
45-Point Inspection
The primary purpose for a 45-point inspection is to identify what is working well and what requires attention. We check the current condition of the following:
Electrical
Hot-Skin Test
110V-Circuits-Polarity
12V-Circuits
Batteries-House/Engine
TV Antenna Operation (Booster)
Converter Output
Converter Charge
All Exhaust Fans
Smoke Detector
Power Cord Inspected
Inverter Output
Microwave
Exterior
Breakaway Switch Operation
Brake Control
Tire Condition – Visual
Roof Condition
Vents/AC Shrouds
Entrance Door and Gaskets
Windows: Gaskets and Crank Handles
Tongue Jack
Antenna Condition
Wiper Blades
Shocks/Springs
Exterior Lighting
Plumbing
Check System for Leaks
Water Pump Operation
Toilet Operation
City Water Intake— CK Valve
All Drain Cocks
Seal on Termination Cap
L.P. Gas System
L.P. Leak Detector Test
L.P. Hose(s) Condition
L.P. Leak Down Test
Leak Check System
Set Regulator
Appliances
Stove/Oven Temperature
Refrigerator Operation
Furnace Operation
Water Heater Operation
Roof Air: Front/Heat Strip/Filters
Roof Air: Rear/Heat Strip/Filters
Aux Generator System
Oil Level
Muffler System
Auto Change Over-Operator
Run Test — Hertz/Volts
*The 45-point inspection determines the condition of your RV equipment at the time of inspection. The inspection is not a guarantee. If the condition of your equipment changes in any way, we are not held responsible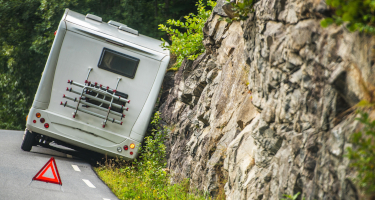 Collision Repair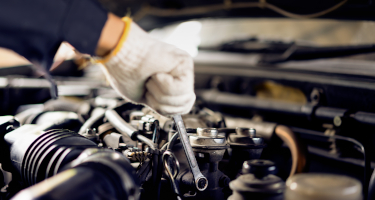 RV Maintenance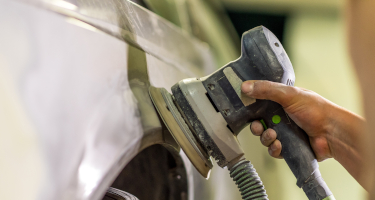 Paint & Body
Clean & Detail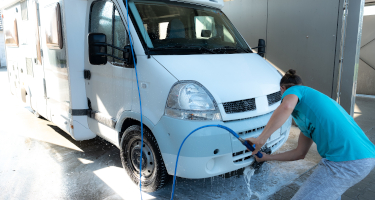 Specialty Services
Wheel Bearing Packs
Recommended Annually to Prevent Bearing and Brake Failure
Electrical System Inspection
Perform Every Six Months to Prevent Electrical Failures and Maintain Safe Operation
Water Heater Service
Recommended Annually to Prolong the Life of the Storage Tank and Keep It Operating Efficiently
Furnace Service
Annual Inspections and Servicing to Keep Your Furnace Operating Safely and Efficiently
Rubber Roof Preventative Maintenance
One of the most expensive RV repairs can be avoided with an annual inspection, cleaning, and UV treatment of your rubber roof.
Seal Tech Testing
Recommended to Locate Hard to Find RV Water Leaks
Generator Oil Change
Recommended Every 75 Operating Hours or 12 Months to Maintain Trouble-Free Operation and Long Life
Gas Generator Service
Recommended to Maintain Trouble-Free Operation and Long Life (Every 75 Operating Hours or 12 Months)
Motorized and Towable Annual Service Packages
Includes Service on LP Systems, Refrigerators, Water Heaters, and Batteries plus Exterior Inspection — Towable Package Includes Bearing Pack — Packages with Generator Service Also Available for Motorized or Towable RVs
Refrigerator Service
Routine Inspections for Optimal Air Flow and Burner/Flue Cleaning — Prolongs the Life of Your Refrigerator and Keeps It Operating Efficiently
Water System Check
Recommended Annually to Prevent Water System Failures
Appliance/Accessories Check
Perform Annually to Help Keep Appliances and Accessories Operating Efficiently and Provide Trouble-Free Travels
RV Orientation
Just bought a previously owned RV and want to know how it operates? Let us show you how!
Air Conditioner Service
Air conditioners operate more efficiently and perform better with the coils cleaned and filters changed annually.
Winterization Packages
Prior to winter storage, make sure to winterize your RV for enjoyment next spring.
De-Winterization
After the long cold winter, make sure your system is clear of antifreeze and checked for leaks.
LP Inspection Service
Annual inspections and pressure checks are recommended to help ensure safe travels.
RV Spa Packages
We're your cleaning professionals! Exterior and interior cleaning and detailing keep your RV looking sharp.
Slideout Maintenance Service
Annual inspections are recommended to maintain trouble-free operation and long life (Includes slideout inspection and lubrication of seals and slide mechanism).
We are committed to serving you with honesty, quality, and valuable workmanship.